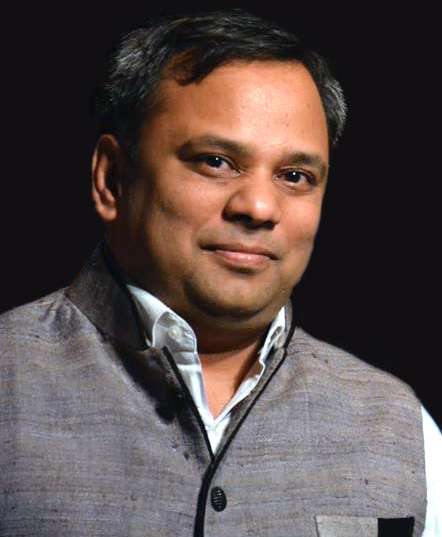 Group Leader, Transcription Regulation
International Centre for Genetic Engineering and Biotechnology
Aruna Asaf Ali Marg
110 067 New Delhi, India
Tel: +91-11-26741358/ 26741361/ 26742357/ 26742360 ext. 163
Education
Goa University, Goa, India, MSc, 1998
Tata Institute of Fundamental Research (TIFR), Mumbai, India, PhD, 2003
Career History
2015– Group Leader (Equivalent to Professor), Transcriptional Regulation, International Centre for Genetic Engineering and Biotechnology (ICGEB), New Delhi, India
2008-2015, Staff Research Scientist, Structural and Computational Biology Group, ICGEB New Delhi, India
2004-2008, Postdoctoral Fellow, Group Wüthrich, Molecular Biology and Biophysics, Swiss Federal Institute of Technology (ETH) Zürich, Switzerland
2003-2004, Visiting Fellow, Department of Chemical Sciences, Tata Insitute of Fundamental Research (TIFR), Mumbai, India
1998-2003, Research Scholar, Department of Chemical Sciences, Tata Institute of Fundamental Research (TIFR), Mumbai, India
Scientific Activity
His group uses an interdisciplinary approach encompassing a wide array of biophysical, biochemical and molecular biology techniques for understanding the structure and function of macromolecules with special thrust on molecular mechanism of Protein-RNA interactions. Liquid-state NMR spectroscopy and X-ray crystallography are synergistically used in his group for determination of atomic resolution structures of protein-RNA complexes that provide a wealth of information pertaining to the binding interfaces, recognition mechanisms, and the forces that stabilize these complexes. Current research focuses on RNA binding proteins that involved in post-transcription regulation of mRNA to decipher a possible general code of RNA recognition. He also uses NMR spectroscopy for metabolic profiling of bio-fluids to understand dysregulation during disease condition and help in identification of biomarkers. Research activity is funded through grants from various public and private bodies, including the Department of Biotechnology, Department of Science and Technology and Ministry of AYUSH Government of India.
He is member of the editorial board of Scientific Reports and reviews scientific manuscripts for international journals in the fields of structural biology and grant applications from various granting bodies in India. He presents regularly his research activity at international meetings and seminars.
Academic Activity

Member, Board of Studies, Central University of Rajasthan, Bandarsindari, Rajasthan.
Member, Institutional Bio Safety Committee (IBSC), Indian Institute of Technology (IIT) Delhi.
Chairperson, Institutional Ethics Committee (IEC), Bennett University, Noida, UP.
Adjunct Professor, Special Centre for System Medicine (SCSM), Jawaharlal Nehru University (JNU), New Delhi.
Adjunct Professor of Ayurveda Biology, School of Sanskrit and Indic Studies (SSIS), Jawaharlal Nehru University (JNU), New Delhi
Member, All India Council for Technical Education (AICTE) committee to develop model curricula of the Biotechnology course for UG in engineering technology.
Member, Academic Council, Jawaharlal Nehru University (JNU), New Delhi
Member, Management Advisory Committee (MAC), NMR facility, Tata Institute of Fundamental Research (TIFR), Mumbai.
Member, All India Council for Technical Education (AICTE) working group to suggest UG courses / specialization areas in non-computer science/IT areas.
Editorial Board Member, Scientific Reports.
Member, JNU-ICGEB Academic Committee.
Member, JNU-NIPGR Academic Committee.
Member, Special Committees, School of Biotechnology (SBT) and Special Centre for Molecular Medicine (SCMM), Jawaharlal Nehru University (JNU), New Delhi.
Member, Research Advisory Committee, Patna University, Patna.
Convenor, PhD examination and admissions committee at ICGEB, New Delhi, India.
Course coordinator for PhD course in Physical and Computational Biology and teaching faculty at ICGEB, New Delhi for other courses and ICGEB workshops.

Selected publications
For complete list of publications click
Aggarwal, P. and Bhavesh, N.S. 2021. Hinge like domain motion facilitates human RBMS1 protein binding to proto-oncogene c-myc promoter. Nucleic Acids Res. 49, 5943-5955. DOI: 10.1093/nar/gkab363 PubMed link
Kumari, P. and Bhavesh, N.S. 2021. Human DND1-RRM2 forms a non-canonical domain swapped dimer. Protein Sci. 30, 1184-1195. DOI: 10.1002/pro.4083 PubMed link
Pandey, N.K., Verma, G., Kushwaha, G.S., Suar, M. and Bhavesh, N.S. 2020. Crystal structure of the usher chaperone YadV reveals a monomer with the proline lock in closed conformation suggestive of an intermediate state. FEBS. Lett. 594, 3057-3066. DOI: 10.1002/1873-3468.13883 PubMed link
Bhatt, H., Ganguly, A.K., Sharma, S., Kushwaha, G.S., Khan, M.F., Sen, S. and Bhavesh, N.S. 2020. Structure of an unfolding intermediate of an RRM domain of ETR-3 reveals its native-like fold. Biophys. J. 118, 352-365. DOI: 10.1016/j.bpj.2019.11.3392 PubMed link (Featured on the cover page)
Ganguly, A.K., Verma, G., Bhavesh, N.S. 2019. The N-terminal RNA recognition motif of PfSR1 confers semi-specificity for pyrimidines during RNA recognition J. Mol. Biol. 431, 498-510. DOI: 10.1016/j.jmb.2018.11.020 PubMed link
Kushwaha, G. S., Bange, G., Bhavesh, N.S. 2019. Interaction studies on bacterial stringent response protein RelA with uncharged tRNA provide evidence for its prerequisite complex for ribosome binding Curr. Genet. 65, 1173-1184. DOI: 10.1007/s00294-019-00966-y PubMed link
Kashyap, M., Ganguly, A.K., Bhavesh, N.S. 2015. Structural delineation of stem-loop RNA binding by human TAF15 protein Sci Rep. 5, 17298 (1-14). DOI: 10.1038/srep17298 PubMed link
Ganguly, A.K., Ranjan, P., Kumar, A., Bhavesh, N.S. 2015. Dynamic association of PfEMP1 and KAHRP in knobs mediates cytoadherence during Plasmodium invasion Sci. Rep. 5, 8617 (1-9). DOI:10.1038/srep08617 PubMed link
Anand, A., Verma, P., Singh, A.K., Kaushik, S., Pandey, R., Shi, C., Kaur, H., Chawla, M., Elechalawar, C.K., Kumar, D., Yang, Y., Bhavesh, N.S., Banerjee, R., Dash, D., Singh, A., Natarajan, V.T., Ojha, A.K., Aldrich, C.C., Gokhale, R.S. 2015. Polyketide quinones are novel intermediate electron carriers during mycobacterial respiration in oxygen-deficient niches Mol. Cell. 60, 637-650. DOI: 10.1016/j.molcel.2015.10.016 PubMed link
Honnappa, S., Montenegro-Gouveia, S., Weisbrich, A., Damberger, F. F., Bhavesh, N. S., Jawhari, H., Grigoriev, I., van Rijssel, F. J. A., Buey, R. M., Lawera, A., Jelesarov, I., Winkler, F. K., Wüthrich, K., Akhmanova, A., Steinmetz, M. O. (2009) A universal EB1-binding motif acts as a microtubule tip localization signal Cell 138, 366-376. DOI:10.1016/j.cell.2009.04.065 PubMed link