MEDICAL BIOTECHNOLOGY
Research Interests
Developing open source tools and technologies for distributed biomanufacturing. Applying protein engineering, DNA assembly and biomanufacturing techniques to diagnostics and industrial sustainability.
Description of Research
Developing capacity to rapidly manufacture bio-engineered solutions in all areas of the world, including diagnostics, vaccines, materials and industrial catalysts, has the potential to revolutionise the global bioeconomy. This approach of decentralised or distributed biomanufacturing could significantly reduce the dependency of developing economies on the global North, and create more resilient global supply chains for biotechnology.
The Biomanufacturing Group (Molloy) develop toolkits and protocols for enzyme biomanufacturing in low- and middle-income countries. We partner with other researchers to apply these technologies to health and sustainability applications. We particularly focus on the development of molecular diagnostic tests for infectious diseases, and on sustainable bioprocessing for economically-important industries.
We have designed and curated modular, open source DNA toolkits for production of proteins that require as few resource inputs as possible, all being non-toxic, renewable and globally available. Our full DNA toolkit offering is currently composed of more than 200 parts, has been ordered by over 500 labs across 50 countries and is fully available for industrial use under the OpenMTA (Kahl et al., 2018). We develop upstream and downstream processing protocols such as low-cost, cell-free expression to generate portable bio-factories; sustainable manufacturing of protein purification substrates; and engineered strains to automate bioprocessing.
Health Applications: We have worked on optimisation and manufacturing of diagnostics for COVID-19 and typhoid fever using isothermal amplification (e.g. LAMP) and CRISPR-Cas12a techniques. We now merge machine learning, protein engineering and low-cost device design to adapt these techniques to testing in low-resource labs and healthcare environments. We are now interested in expanding biosensing to environmental and biodiversity monitoring.
Sustainability Applications: We are currently exploring larger-scale local enzyme manufacturing to meet the bioprocessing and biocatalysis needs of industries in LMICs that are switching to more sustainable practices. We are keen to work further on this area, alongside academic collaborators and end users. Beyond technical development, we undertake research and policy work to examine the role and impact of open approaches to intellectual property and local manufacturing for the global bioeconomy. This includes working with international and intergovernmental organisations, civil society and governments to shape policy agendas and create enabling environments for bio-based innovation to thrive.
---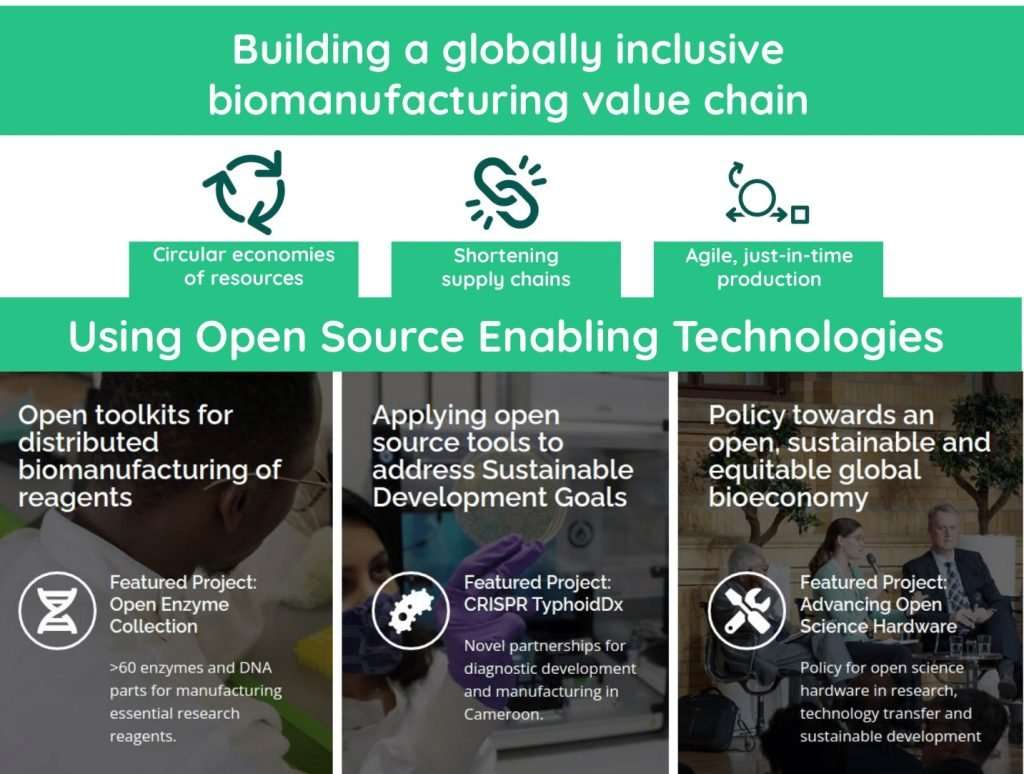 Recent Publications
Bird, A., Molloy, J.C., Hall, E.A.H. Biocatalytic Synthesis of 2'-Deoxynucleotide 5'-Triphosphates from Bacterial Genomic DNA: Proof of Principle (2023). Biotechnology and Bioengineering (accepted)
Sundaram, L., Ajioka, J., Molloy, J.C. Synthetic Biology Regulation in Europe: Containment, Release, and Beyond (2023). Synthetic Biology (accepted)
Guzman-Chavez, F., Arce, A., Adhikari, A., Vadhin, S., Pedroza-Garcia, J. A., Gandini, C., …Haseloff, J. Constructing Cell-Free Expression Systems for Low-Cost Access (2022). ACS synthetic biology, 11(3), 1114-1128 PubMed
Arce, A., Guzman Chavez, F., Gandini, C., Puig, J., Matute, T., Haseloff, J., Dalchau, N., Molloy, J., Pardee, K., & Federici, F. Decentralizing Cell-Free RNA Sensing With the Use of Low-Cost Cell Extracts (2021). Frontiers in Bioengineering and Biotechnology (Vol. 9). PubMed
Bhadra, S., Nguyen, V., Torres, J.A., Kar, S., Fadanka, S., Gandini, C., Akligoh, H., Paik, I., Maranhao, A.C., Molloy, J. & Ellington, A.D. Producing molecular biology reagents without Purification (2021). PloS one, 16(6), e0252507 PubMed