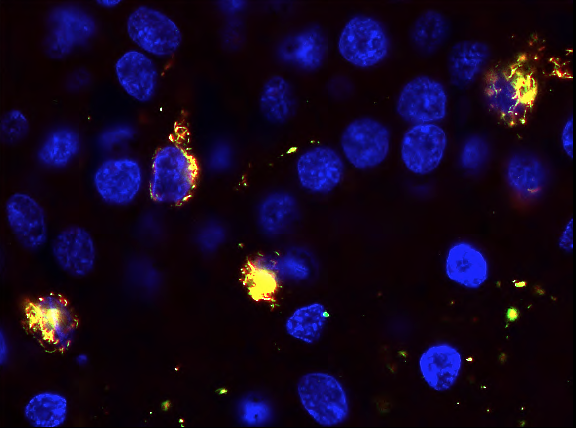 Aggregation of hyperphosphorylated TDP-43 is the hallmark pathological feature of the most common molecular form of frontotemporal lobar degeneration (FTLD–TDP) and in the vast majority of cases with amyotrophic lateral sclerosis (ALS–TDP).
However, most of the specific phosphorylation sites remain to be determined, and their relevance regarding pathogenicity and clinical and pathological phenotypic diversity in FTLD–TDP and ALS–TDP remains to be identified.
The latest Open Access article published by E. Buratti and collaborators is now available in Acta Neuropathologica.
Here, the authors generated a novel antibody raised against TDP-43 and used it to investigate the presence of S375 phosphorylation in a series of FTLD–TDP and ALS–TDP cases. Immunoblot analysis demonstrated phosphorylation of S375 to be a consistent feature of pathological TDP43 species, including full-length and C-terminal fragments, in all FTLD–TDP subtypes examined and in ALS–TDP.
Of particular interest, however, detailed immunohistochemical analysis showed striking differences in the immunoreactivity profile of inclusions with the pTDP-43S375 antiserum among pathological subtypes. TDP-43 pathology of ALS–TDP, FTLD–TDP type B (including cases with the C9orf72 mutation), and FTLD–TDP type C all showed strong pTDP-43S375 immunoreactivity that was similar in amount and morphology to that seen with an antibody against TDP-43 phosphorylated at S409/410 used as the gold standard.
In stark contrast, TDP-43 pathology in sporadic and genetic forms of FTLD–TDP type A (including cases with GRN and C9orf72 mutations) was found to be almost completely negative by pTDP-43S375 immunohistochemistry. These data suggest a subtype-specific, conformation-dependent binding of pTDP-43S375 antiserum to TDP-43 aggregates, consistent with the idea of distinct structural TDP-43 conformation (i.e., TDP-43 strains) as the molecular basis for the phenotypic diversity in TDP-43 proteinopathies.
Acta is one of the major journals of the field, mainly publishing on pathology and pathogenesis of neurological disease. The journal focuses on structural and molecular neuropathology using human tissue, animal models and in vitro systems
Acta neuropathologica https://doi.org/10.1007/s00401-020-02207-w: Antibogy against TDP-43 phosphorylated at serine 375 suggests conformational differences of TDP-43 aggregates among FTLD-TDP subtypes
Read more about the research activity of the Molecular Pathology Group, ICGEB Trieste.